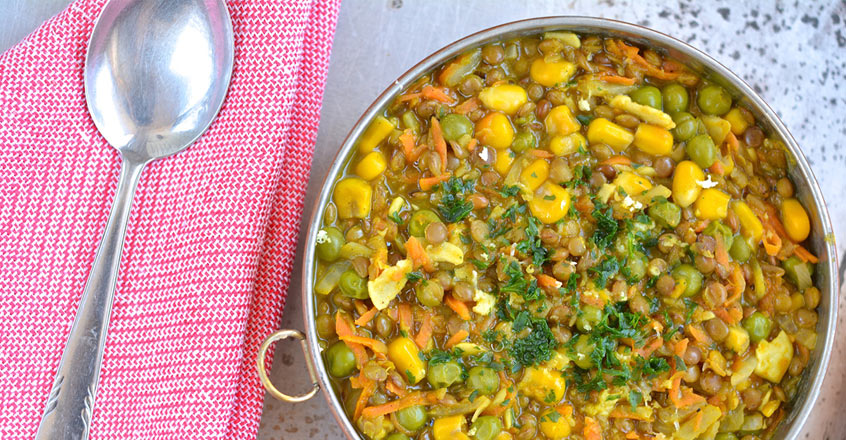 Ingredients
2 Tbsp onion flakes
2 tsp garlic flakes or 1 tsp garlic powder
1 tsp vegetable broth powder
1 tsp curry powder
1 cup lentils, soaked
½ cup corn (fresh or frozen)
1 cup peas (fresh or frozen)
A few splashes of light coconut milk
2 carrots, coarsely grated
1 tsp turmeric
Black pepper to taste
Instructions
1. Soak lentils for 6-8 hours. Then drain and rinse.
2. Throw onion and garlic flakes, vegetable broth powder, curry powder, peas and corn, and lentils into a pot.
3. Add enough water to barely cover the ingredients and mix well. Bring to boil and simmer for 15-20 minutes. It's ready when the lentils are done.
4. While the stew is cooking, grate 2 carrots and put aside.
5. When the stew is done, add coconut milk and grated carrot and mix well.
6. Let the stew cool a bit and then add the turmeric and black pepper.
Cooking Tips
1. To shorten the cooling process, divide the stew between plates and add turmeric and black pepper to individual portions.
2. Garnish with coriander, parsley, thyme or sage.
3. Add nutritional yeast for a cheesy flavor
100% online, learn at your own pace
Instructor led format
No prerequisites
Continuing education credits