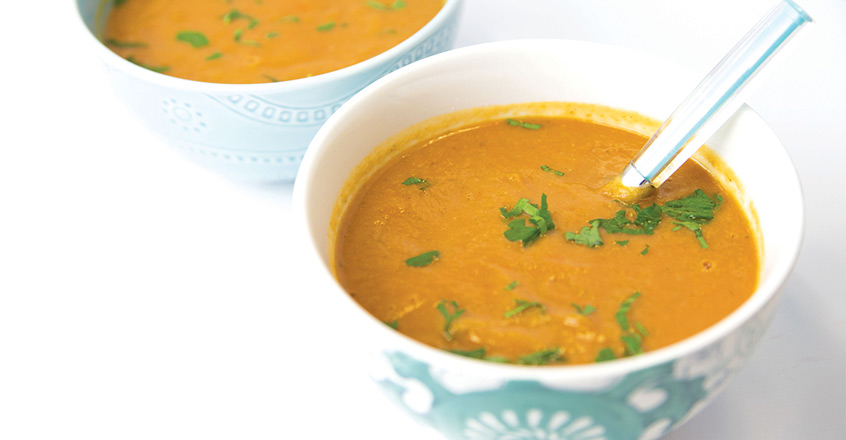 Ingredients
1 medium yellow onion, diced
4 garlic cloves, minced
4 cups low-sodium vegetable broth
1 (28 oz) can diced tomatoes, undrained
1 (12 oz) bag frozen cauliflower or 2 cups fresh cauliflower florets
4 pitted dates (optional)
1 cup fresh basil leaves, shredded
Sea salt (optional) and black pepper
Instructions
1. Sauté the onion in a large saucepan over medium heat until the onion turns translucent and starts to brown, about 8 minutes. Add water 1 to 2 tablespoons at a time to keep the onion from sticking. Add the garlic and cook for another minute.
2. Add the vegetable broth, diced tomatoes, cauliflower, and dates (if using); cover; and cook for 15 minutes. Add the basil, season with sea salt and black pepper to taste, and cook for another 5 minutes to marry the flavors.
3. Purée the soup in batches in a blender or use an immersion blender to puree the soup right in the pot. Taste and adjust for salt and serve.
Cooking Tips
1. When puréeing hot liquids in a countertop blender, remove the center of the blender lid and hold a dish towel firmly over the hole to catch the released steam. Start the blender on low and slowly increase the speed.
100% online, learn at your own pace
Instructor led format
No prerequisites
Continuing education credits