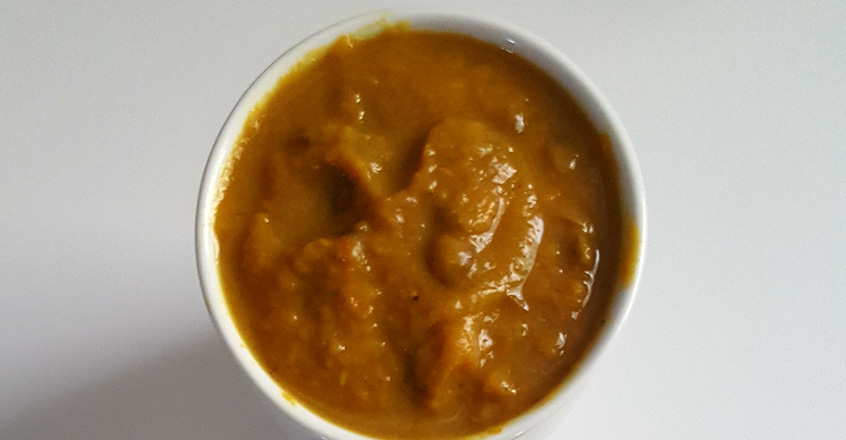 Ingredients
1 13.5 oz can reduced fat coconut milk
1 medium onion, diced
1 Tbsp minced ginger
4 large cloves garlic, peeled and minced
1 Tbsp curry powder
3 medium sweet potatoes chunked
1 cup dried red lentils, rinsed
3 cups water
Black pepper to taste
Sea salt to taste
Instructions
1. Open the can of coconut milk and spoon a few tablespoons into the bottom of a pressure cooker.
2. Turn on sauté and add the onion and cook until soft and translucent, 3-5 minutes.
3. Add the ginger and garlic and cook another minute. Add the curry powder and stir until combined. Dump in the sweet potatoes, lentils, remaining coconut milk, water, and salt/pepper.
4. If using the pressure cooker, lock the lid in place, bring to the highest pressure, and cook for 8 minutes. Let the pressure release naturally. (If you're not using a pressure cooker, bring to a boil, reduce to a simmer, and cover. Cook maybe about 30 minutes, stirring often. You'll probably need to add more water, bit by bit).
5. Unlock the lid of the pressure cooker and either mash the soup with a potato masher or use an immersion blender.
6. Taste and adjust the seasonings with more salt or curry powder. This soup thickens quite a bit as it cools, so you may need to add more water.
7. Serve topped with roasted pumpkin seeds or cilantro.
100% online, learn at your own pace
Instructor led format
No prerequisites
Continuing education credits