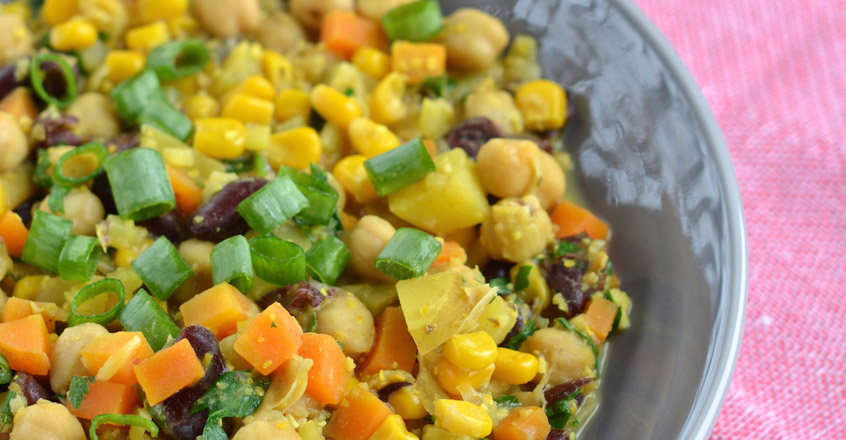 Ingredients
2 Tbsp onion flakes
1 tsp powdered garlic
½ tsp turmeric
½ tsp cumin seeds, crushed
1 tsp mustard seeds, crushed
1 celery stalk, chopped
1 medium carrot, chopped
2 small potatoes, cut into small cubes
1 tsp vegetable broth powder or a pinch of sea salt
Middle
½ of a 15-ounce can corn, rinsed and drained or 1 cup fresh or frozen corn
1 15-ounce can chickpeas, rinsed and drained
1 15-ounce can red beans, rinsed and drained
End
A handful of fresh flat leaf parsley, chopped
Black pepper or cayenne pepper
2 Tbsp light coconut milk
Scallions
1 Tbsp nutritional yeast per serving
Instructions
1. Combine the ingredients listed in the first table into a small pot. Add enough water to cover the veggies. Bring to boil and simmer until the veggies are tender.
2. Smash about 1/3 of chickpeas with fork and add to the pot.
3. Add rinsed and drained corn, the rest of the chick peas and red beans. Mix well. Bring to boil and simmer for another 5 minutes. Add a bit of water of necessary.
4. When the stew is done, mix in coconut milk and chopped parsley and season with pepper to taste.
5. Garnish with scallions and nutritional yeast.
Cooking Tips
1. If you don't like the taste of cumin seeds substitute with caraway seeds
2. Use cilantro instead of parsley. Cilantro goes very well with turmeric and cumin.
3. Substitute any beans that you have in hand – white, pinto, black-eyed, black etc.
100% online, learn at your own pace
Instructor led format
No prerequisites
Continuing education credits