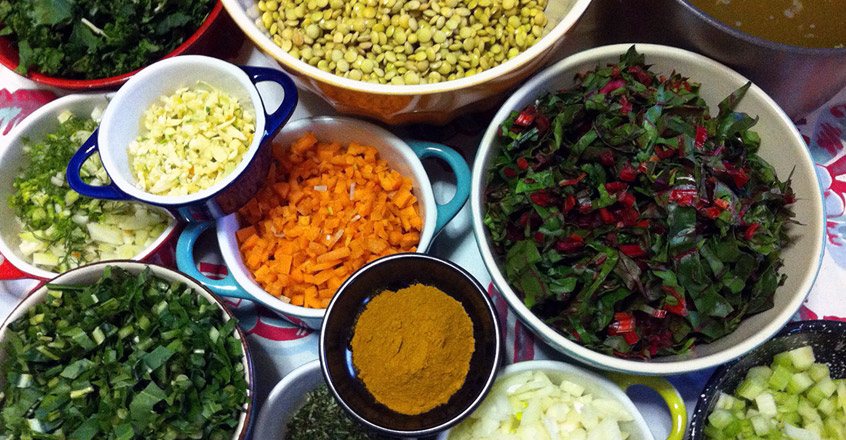 Ingredients
2 ½ cups French/green lentils, soaked overnight
2 ½ quarts vegetable stock (or water)
1 cup diced white onion
1 cup diced carrots
1 cup diced celery
1 cup diced fennel
10 cloves minced garlic
3 Tbsp fresh chopped thyme
3 Tbsp fresh chopped rosemary
3 Tbsp ground turmeric
3 cups kale, sliced thin
1 ½ cups swiss chard, sliced thin
1 ½ cups dandelion greens, sliced thin (optional)
1 tsp cardamom
1 tsp cumin
1 tsp coriander
Sea salt (optional) and fresh black pepper
Instructions
1. In a 2-gallon pot over medium-high heat add lentils, stock, onions, carrots, celery, fennel and garlic and begin to simmer for 35-40 minutes until lentils are tender. Add more liquid if needed to finish cooking lentils.
2. Remove half of the soup and blend until smooth. Pour the puree back into the soup and turn heat to low just while folding in remaining ingredients. Remove from heat and allow greens to wilt into the soup.
3. Season with salt and pepper to taste.
100% online, learn at your own pace
Instructor led format
No prerequisites
Continuing education credits