12 Satisfying Plant-Based Soup & Stew Recipe Ideas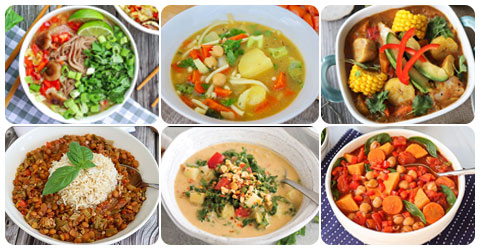 There's nothing more comforting than a steaming hot bowl of soup or stew during the colder months. Not only can you skip the meat and dairy to make these fantastic dishes, cooking exclusively with plants gives you a great opportunity to experiment with seasonal produce. These soups and stews are as versatile as they are hearty. And they're super easy too, so get yourself a generously sized pot to prepare these wholesome bowls.
Plant-Based Soups & Stews
These recipes are suitable for both beginners and seasoned cooks. They're ideal for batch cooking, and great for feeding a crowd. You can serve them with a side salad, cornbread, whole grain bread, or corn on the cob. Don't be afraid to customize—soups and stews are fantastic for using up any ingredients that you have left over in your fridge. If you find yourself in a hurry, soups and stews are also ideal for reheating as a quick meal later. You can enjoy them as the first course for an intimate gathering or even as the main dish.
Soups & Stews Recipes
This soup comes together quickly and is bursting with bold, aromatic flavors. The shiitake mushrooms add an extra dimension of richness and earthiness.
This stew checks all the boxes. It's healthy, hearty, and delicious. Not only will it keep you full and satisfied, the oregano will leave an enticing aroma in your kitchen for hours.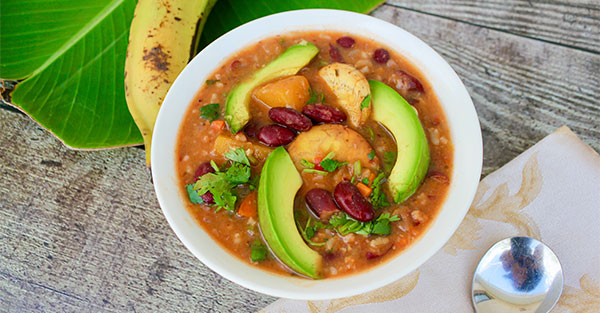 Asopao is a type of hearty stew containing rice that is prepared in many parts of the Caribbean. Though it's traditionally prepared with meat, seafood, or beans, this plant-based version of the Puerto Rican national classic is even better. It's perfect for a family reunion, a large gathering of friends, or simply a flavorful home-cooked meal.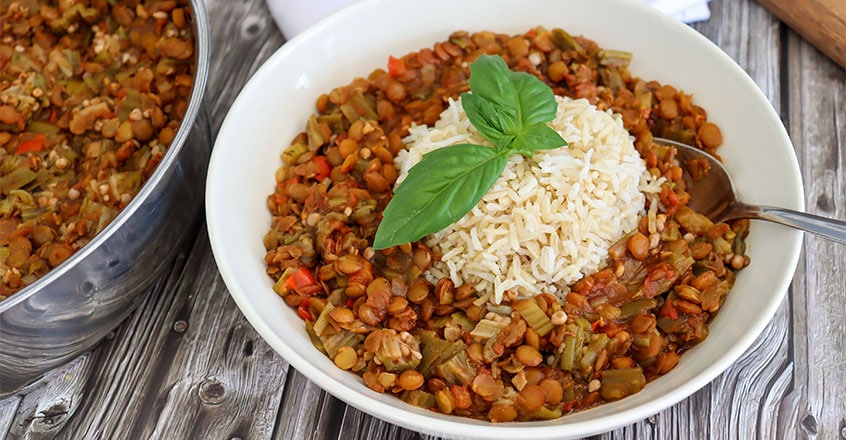 Showcasing the "holy trinity" of Louisiana Creole cuisine—onions, bell peppers, and celery—and a warm blend of aromatic herbs, it is pure comfort food. Try it over rice or a baked potato. You can't go wrong!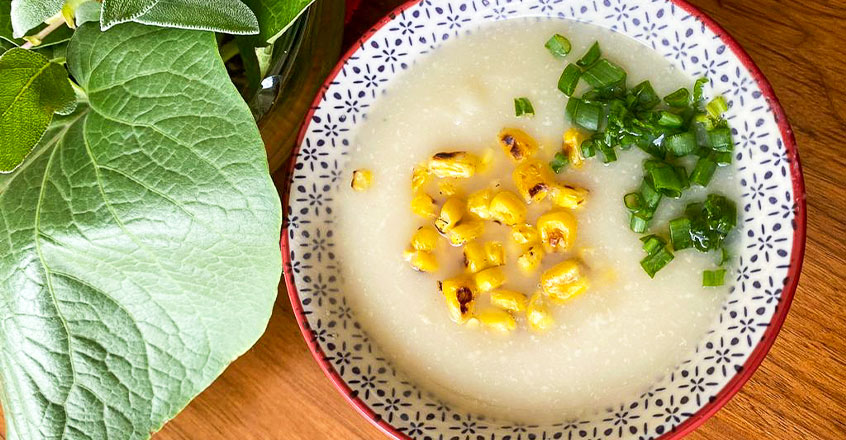 Puréed cauliflower makes a lovely, creamy base for this simple but comforting soup that is made in almost no time with just a handful of ingredients.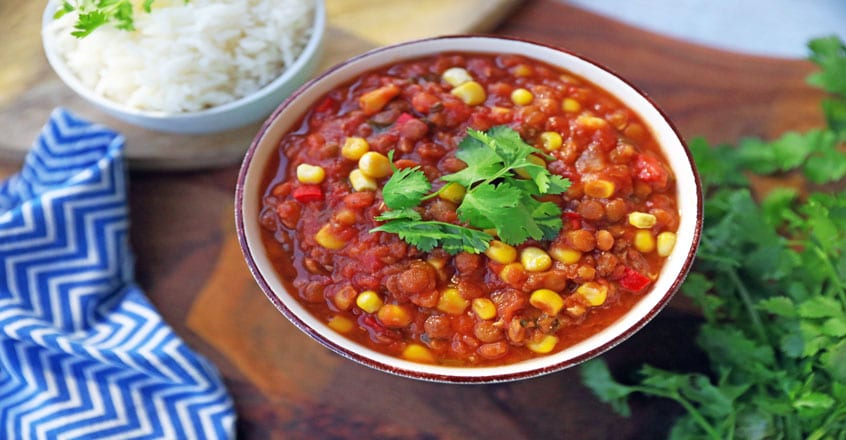 One Pot Plant-Based Lentil Chili
This one-pot vegan lentil chili is warm, hearty, and comforting on even the coldest of days. It's especially good with a fresh slice of cornbread.
It's a good idea to make big batches of this dish—it's one of those soups where everyone goes back for seconds, thirds, and yes, sometimes fourths. If you don't have kale on hand, use collard greens or spinach.
Puerto Rican Root Vegetable Stew: "Sancocho"
Sancocho is one of the oldest dishes of Puerto Rican gastronomy. There are also versions of this popular dish prepared in the Dominican Republic, the Canary Islands in Spain, Colombia, Panama, Argentina, and Venezuela.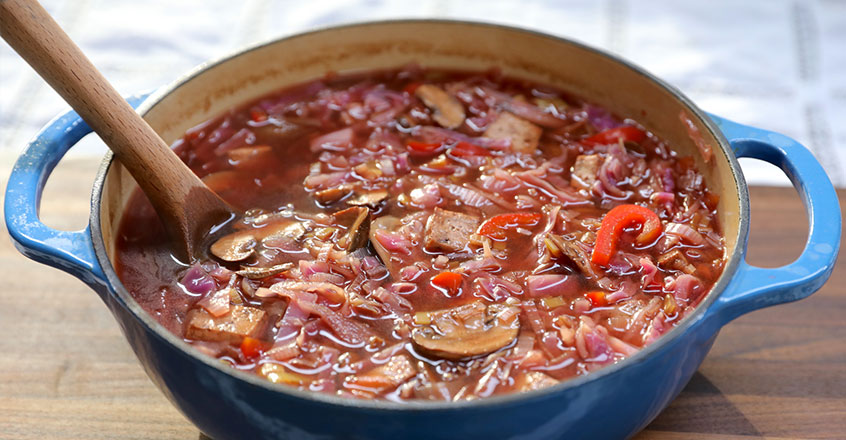 The balsamic vinegar in this soup gives it a unique sweetness, with a hint of sourness that pairs really well with the smoky ingredients. It's a fantastic way to enjoy antioxidant-rich purple cabbage.
Delicious Sweet Potato, Black Bean, and Collard Soup
The curry powder and cumin give this soup a deep, rich flavor that works really well with the sweetness of the pepper. It's super easy to make, and it cooks in less than 15 minutes, but let the flavors simmer for a while. Your taste buds will thank you!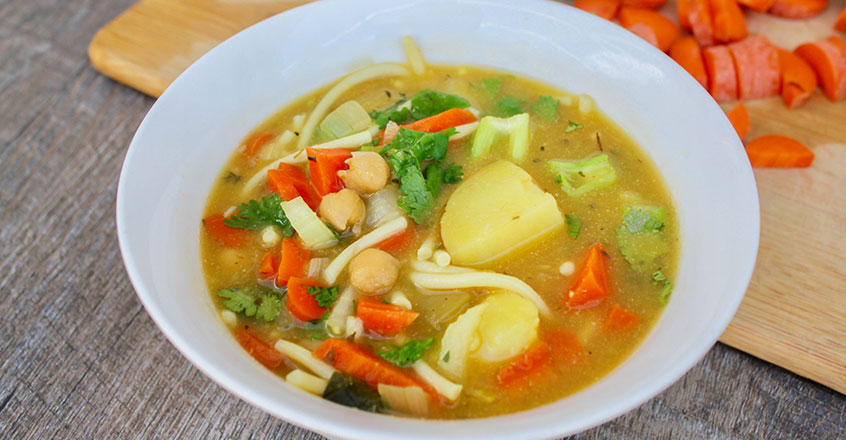 Comforting Chickpea Noodle Soup
This plant-based version of chicken noodle soup is soothing, nourishing, and ready in 30 minutes. Enjoy this yummy comfort food when you are not feeling well, or when you want to warm up on a cold day.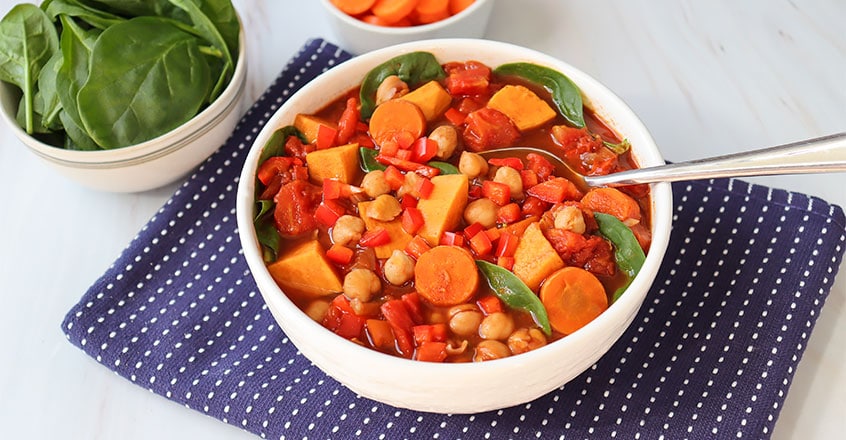 Moroccan Spiced Vegetable Stew
This stew has a bold, warm flavor thanks to the blend of Moroccan-style spices. Serve it with a grain or bread on a cold evening.
Copyright 2022 Center for Nutrition Studies. All rights reserved.