12 Plant-Based and Oil-Free Hanukkah Recipe Ideas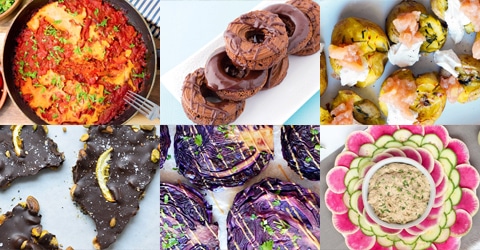 Food plays an important part in Jewish traditions, and Hanukkah is no exception. Hanukkah, the eight-day Jewish commemoration also known as the Festival of Lights, typically involves feasting on fried foods and dishes loaded with sugar and fat. We've put together a list of some of our favorite whole food, plant-based and oil-free dishes in honor of this tradition.
Plant-Based Hanukkah Appetizers

This baba ganoush is a thick & creamy roasted eggplant dip that's the perfect accompaniment to sliced raw veggies.

These plant-based matzo balls are just as light, fluffy, and flavorful as their conventional counterparts.

Plant-Based Hanukkah Main Dishes

This hearty, delicious pot roast replaces beef with portobello mushrooms but requires no sacrifice of flavor. As rich as any traditional pot roast but twice as fast to cook, this one-pot meal will satisfy everyone at the holiday table.

Think cabbage is a boring veggie? Think again! I dare you not to be impressed and intrigued by the vibrant color of these "steaks," which look dazzling on your plate no matter what you serve them with.

Plant-Based Hanukkah Sides Plant-Based Hanukkah Desserts

Chia and pumpkin seeds make this fantastic vegan chocolate dessert pop along with hazelnuts, pistachios, orange slices and cardamom.

These doughnuts are not only whole grain but also free of oil and processed sugar, so you can include them on the list of healthy breakfast foods you serve to your family.
Copyright 2021 Center for Nutrition Studies. All rights reserved.